Being stuck in traffic is not only frustrating. It's a big waste of time and resources.
Over the last few years we created a powerful platform that gives an unprecedented overview of road conditions and how travel-times will evolve over the day.
Together with our intelligent routing layer for minute level data we enable higher utilization rates of vehicle fleets and improved customer service. Companies become more pro-active, not constantly having to react to changed plans. Our technology helps even the most experienced drivers with years on the same roads, when it comes to finding the fastest, most fuel-efficient way to destination.
Estimates by WWF show that Mindconnect technology and analytics as a base for optimization of transports has the potential to reduce emissions by 31 million tonnes CO2 per year worldwide.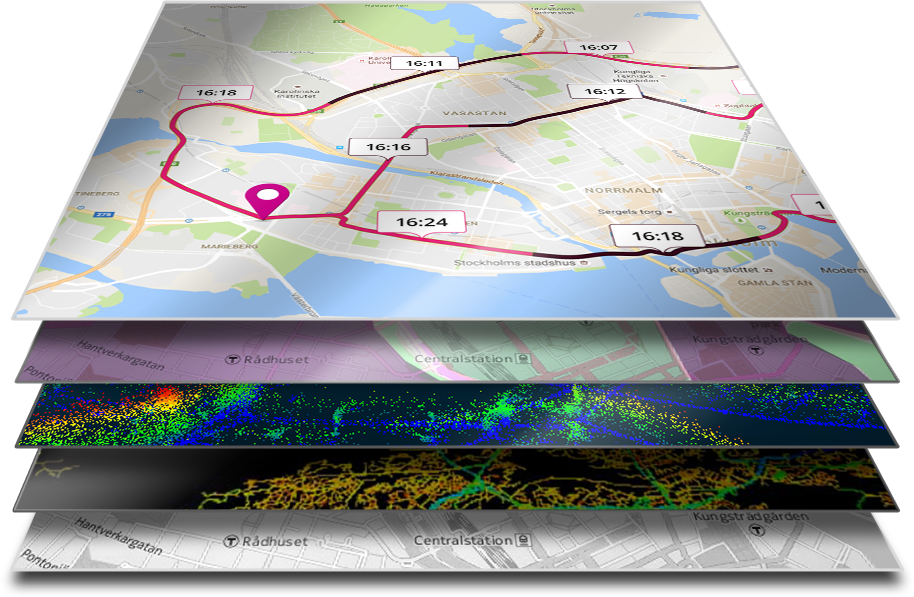 Breakdown of our enriched map
Electrical and autonomous vehicles are around the corner. CityFlow® ushers mobility service providers into the future.
The CityFlow platform is enriched with several layers of data and enables powerful analytics capabilities for dynamic navigation in urban areas. Our proprietary technology allows us to customize our solutions to meet your specific business requirements.
Leverage your location intelligence and get fast, accurate access to CityFlow real-time and predictive traffic and road information through our API services. A wide range of applications can be imagined and developed for mobile, web or in-car solutions.
Example of services provided:
Routing, A to B: Get fastest, shortest, vehicle specific, up to 3 route suggestions
Plan your travel: Know when to leave to arrive a certain time
Multiple destinations: Get the most efficient order of traveling
Vehicle reach: Calculate how far you get in within a certain time frame
Closest asset: Manage your entire fleet
Day profile: See how travel-times change on a certain route over the day
Estimated fixed price: Get time and length of travel to estimate price cost
Evaluate your travels

Did driver take fastest route?
Did driver differ from directed route?
CityFlow Commute
Plan ahead and avoid traffic! CityFlow Commute is a real-time traffic service that gives an unprecedented overview of how travel-times will evolve over the day. CityFlow Commute contributes to easing congestion and lessens the carbon-footprint of commuters. Currently available in Sweden.
For more information: cityflow.se/commute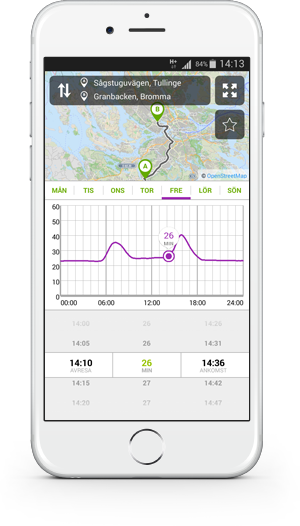 Eventico® radically changes the way we plan and execute events. Developed in close collaboration with experts in mass participation events and road safety.
Eventico
Large events in urban areas, such as running and cycling races, often have a large impact on the traffic situation.
Our innovative solution Eventico puts event organizers in control of their events. With Eventico you efficiently plan your event, schedule activities and coordinate your team along the course. Eventico enables well-planned and safe events, for participants, volunteers and spectators. Communication towards inhabitants and coordination with different authorities is facilitated.
The Eventico integrated mobile and web solution is available across the globe.
For more information: eventico-sports.com